The Great Puckaroo Roundup
The Great Puckaroo Roundup (TGPR) is an annual outdoor adult hockey tournament at
Winthrop Rink
in Winthrop, Washington. It is produced by Kraken Hockey League and intended to provide friendly, fun and competitive games for team skill levels ranging from D to B. 
These tournaments have limited capacity. Upon acceptance, a deposit fee will be charged to your account. All players participating in any of the three tournaments must have their valid USA Hockey confirmation number, and must create an account with Kraken Hockey League and join their respective team(s).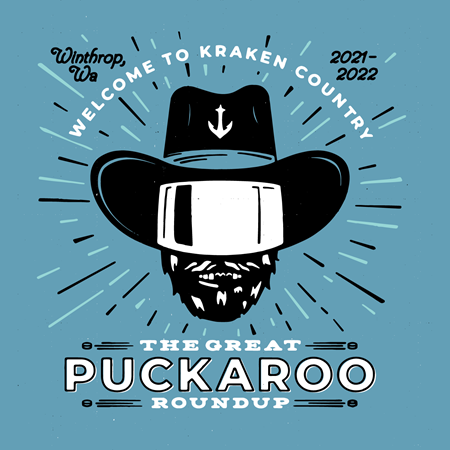 Tournament Weekends
January 21-23: C level teams
Registration Details
Teams will be notified of entry status, upon which a deposit will be charged to your account.
Teams will be accepted based on a number of factors, including but not limited to home-league, returning status and skill level.
Costs
$150 deposit upon acceptance; $2,500 per team.
Teams not accepted will not be charged.
Tournament Details
All teams in the tournament are guaranteed three games and one championship (1st/2nd) or one consolation (3rd/4th) game (four games total/max).
Games may begin as early as ~7 a.m. on Friday.
All tournaments conclude Sunday afternoon, and vary by division.
Awards
Championship game awards for 1st and 2nd place.
Player awards for final game (MVP and Sportsmanship)
Included with Registration
Great Puckaroo Tournament T-Shirt
BBQ Dinner Social Saturday Night
Weekend Tips
All players are strongly encouraged to arrive on Thursday. Pass conditions vary and players who don't leave until Friday risk missing one or both games on Friday if there are unexpected pass/road closures or delays. 
Please check all pass driving conditions, including SR 20 - North Cascade Highway and Snoqualmie Pass for the latest driving updates.
In the spirit of keeping Winthrop Rink a family and kid-friendly environment, alcohol and beer are not permitted in Winthrop Rink or locker rooms. Please reserve consumption for nearby bars or places of lodging.