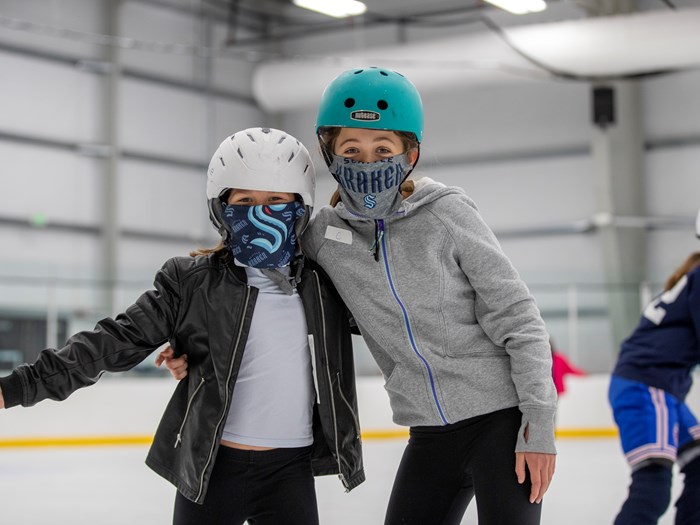 SCHOOL & CAMP FIELD TRIPS
Students will discover a new way to get active with open skating and lessons, and even have a chance to watch the Seattle Kraken practice. Kraken Community Iceplex can host pre-school, elementary up through high school & college groups of students for field trips & day camp trips.
60-min open skate for up to 300 people.
Skate rentals included 
$11 per person (min $425/hr rental fee)
Add ons: 
Make it a pizza party, bring in instructors for a 30-min skate lesson or inquire about timing to watch a Kraken practice.
A selection of 30-40 min STEM-based hands-on learning activities with materials, prep-work and teaching notes available on request for teachers to deliver back at school before or after your field trip. 
Field Trip STEM Content
STEM (Science, Technology, Engineering, Math) based field trips focus on hands-on learning with real world applications. Provided by US Ice Rinks, supplement your ice skating field trip with lesson plans that include materials list, prep work, demonstration and presenter notes.  
Experiment with Friction Pucks
In this activity, explore the science and engineering behind hockey pucks, then explore friction with regard to pucks and curling stones and experiment with "friction pucks".
Level K-8
Explore Temperature Change
Explore the concepts of heat transfer and temperature change in the context of the ice rink environment and experiment with insulators. Participants take home their "air head" insulator.
Level K-8
Make a Balancing Butterfly
The concept of balance in skating is explored. Participants experiment with a paper butterfly that can "magically" balance on the tip of its head. Participants take home their butterfly.
Level K-8
Make Catapults
In this activity, learn how a hockey stick functions as a powerful lever. They make and experiment with simple levers (catapults) that can shoot pompom "pucks" across the table or floor. Participants take home their catapult.
Level K-8
Make Fizzing Snowman
Learn the science of ice and snow, then learn about chemical reactions by making a fizzing snowman. Students learn how an ice resurfacer works, how salt changes the freezing point of water, how ice and snow are related, and how acids and bases combine to cause a chemical reaction.
Level K-8
Make Paper Helicopters
In this activity, kids explore the science of spinning, with emphasis on figure skating. They make and experiment with spinning paper helicopters, which they can take home.
Level K-8
Make Pinwheel Rockets
Participants explore the science of spinning, with an emphasis on figure skating. They make and experiment with spinning pinwheel rockets, which they can take home.
Level K-8
Make Snow Slime
In this activity, kids explore the science of ice and snow, then learn about chemical reactions and make a batch of "snow slime" to play with and take home. They learn how an ice resurfacer works, how salt changes the freezing point of water, how ice and snow are related, and how a chemical reaction can cause a phase change.
Level K-8
Make a Balance
In this activity, students explore the concept of balance and make a balance toy to experiment with. Participants take home their balance.
Level K-3
Ice Cube Fishing
Students explore the science of how ice is made in an ice rink, then experiment with melting and refreezing ice by "fishing" with a string and salt. They also take home their "fishing rod".
Level 4-8
DONATION REQUESTS
Please note a few guidelines for donation requests: 
To be eligible for a donation, your organization must have 501(c)3 tax exempt status and reside within 75 miles of Climate Pledge Arena or be a youth hockey program in one of these five states: AK, ID, MT, OR, WA. 
We will prioritize requests submitted by organizations whose mission(s) closely align with our three pillars of hockey access, youth homelessness, and environmental justice. We do not donate to political, religious, advocacy, or special interest groups, or any organization that may in any way conflict with our goals, programs, or affiliations.
Submit a request at least 8-weeks prior to desired in-hands date. We will provide a response to all requests – whether approved or not – so please refrain from contacting our offices to check on the status of your request.
You may access our full list of guidelines for in-kind donations here. If you have any questions, please contact us at donations@seattlekrakenhockey.com