Freestyle Details
PRE-REQUISITE
Open Freestyle:
Youth:
Open to all figure skaters in Basic Skills #6 and higher
Skaters in Basic Skills #5 and lower must be in a lesson with an instructor
Adult:
Adult Skater that have successfully passed Adult #3
KSA Club 60 Minute + 30 Minute Freestyle Sessions:
**All skaters must be a current KSA USFS member for the 2023/24 season or skating in current session of Emerald Edge or Learn to Skate**
Youth:
Skaters that have successfully passed Basic Skills #6 can skate on their own
Skaters Basic Skills #6 and below must be in a lesson with an instructor
Adult:
Skaters must have passed Adult #6 skills
KSA Club High Performance Freestyle:
**All skaters must be a current KSA USFS member for the 2023/24 season or skating in current session of Emerald Edge**
Youth:
Skaters must  have passed Pre-bronze Skating Skills (standard track)
Emerald Edge skaters in Freeskate 4 and up must be in a lessons with an instructor/instructor supervision
Adult:
Skaters must have passed Adult Gold Skating Skills.
This is NOT a public skate session. Public skate information posted here.
FREESTYLE RULES & GUIDELINES
Please read, review and follow the rules and guidelines for freestyle sessions to ensure a positive experience for all guests.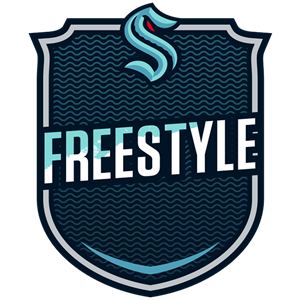 Kraken Community Iceplex offers daily freestyle sessions designed for all ages and levels of figure skaters. Please check the sign-up calendar on DaySmart for specific days/times as some days/times subject to change. 
Punch Passes
Note: Punch passes are valid for the purchaser and their immediate family only.
Punch passes need to be purchased first, before selecting the activity dates. There are 2 steps to this process:
STEP 1 
Log into or set up an account on DaySmart. 
Go to the PLAYER PASSES & PASSES menu along the left side of the screen and choose Add Pass. Select the appropriate pass. 
Go to your shopping cart and complete your purchase. 
STEP 2
Return to DaySmart and select your dates. 
Go to your cart, and you will be able to apply your pass against the dates selected. 
2023 - 2024 Session Schedule
Session #1 Class Options
Skate Sharpening
We offer skate sharpening for figure and hockey skates. We do not sharpen goalie skates. All prices below are after tax.
New figure skates (never sharpened) - $18.50
Figure skates - $15.50
New hockey skates (never sharpened) - $15.50
Hockey skates - $12.50
We cannot guarantee immediate turnaround for sharpening. Typical wait times are 30-60 minutes, and can run up to 24 hours depending on facility activity.
Gift Cards Available
Looking for the perfect gift for the skater or hockey player in your life? Give them a gift card to the Iceplex! Gift cards can be purchased for any amount and used for any activity the Iceplex offers.
Login or create your DaySmart account and go to the gift card dashboard linked below.
There is a minimum amount of $15, but you can also create custom amounts by editing the "Amount" field.
A redemption code will be sent to both you and the recipient via email.
The purchaser must have an account with DaySmart to purchase and assign to the recipient. Gift cards are valid for Iceplex programming only and are NOT redeemable at the Kraken Team Store, 32 Bar & Grill or Starbucks. 
Guest Coaches
Kraken Community Iceplex welcomes guest coaches. Registration details and insurance requirements provided on the coaches information page.  
Rink Music Inc
COMING SOON
The Rink Music system will be used for all freestyle sessions. Cell phones, iPads and CDs are are not supported for playing music.
Coaches and skaters purchase a rink music key tag at the front desk.
Go to Rink Music to setup an account and select Kraken Community Iceplex as your facility.
The skater whose music is playing will be provided a sash and will have the right of way for the duration of their song.