CHAD GOODWIN
DIRECTOR, KRAKEN SKATING ACADEMY
Goodwin joined the Kraken after spending four years as Skating Director for the Vegas Golden Knights. There, he founded their Skating Program, coaching both competitive skating and power skating for the Jr. Golden Knights hockey program. Goodwin brings with him nearly ten years of experience developing and implementing figure skating, power skating, and Learn to Skate programs. He is a committee member with U.S. Figure Skating for the Aspire Program, an ISI Certified Program Director, PSA Registered Program Director, and holds a PSA Certified Rating in Freestyle.
A professional figure skater himself, Goodwin is a four-time Canadian National Competitor and three-time Sectional Champion. He spent seven years skating with Bietak Productions and Royal Caribbean Cruise Lines.
In addition to his duties with the Kraken, Goodwin serves as the Membership Chair for Learn to Skate USA.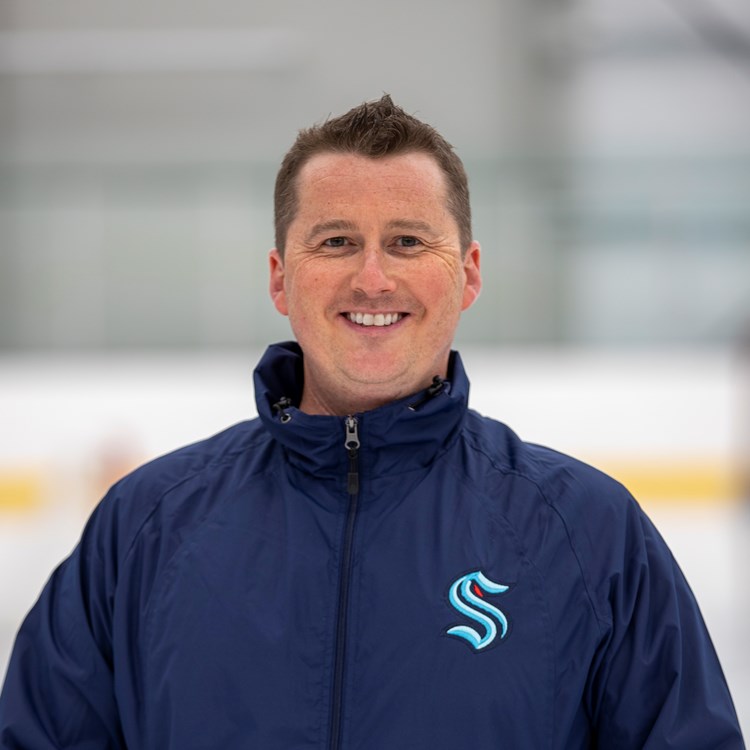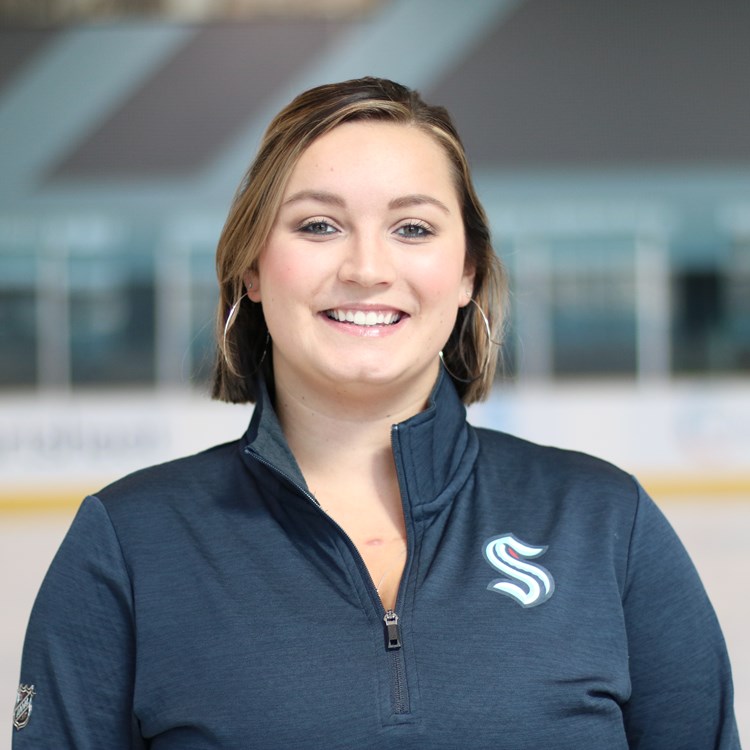 Christiana Dudik
Skating Development Specialist, Kraken Skating Academy
Christiana began her journey with the Kraken as a Learn to Skate Coach with Kraken Skating Academy, soon transitioning to full-time team member with Chad early 2022.  She moved to Washington from Bozeman, Montana where she was the Learn to Skate Director, coaching figure skating and power skating for the youth hockey programs as well as the MSU Bobcats Hockey Team. 
Christiana grew up in Park City, Utah - where she began her skating journey in 2006.  She is a founding member of the Figure Skating Club of Park City. In addition to figure skating, she started playing hockey when she hit high school, and had the most fun playing on her high school team and practicing with the Utah Lady Grizzlies. She performed with the Utah Chapter of the American Ice Theater at University of Utah Hockey games, Utah Grizzly Games, and local exhibitions. 
She is passionate about sharing the love of ice with skaters of all ages and abilities, while making the experience fun.
Kraken Skating Academy Coaches
Resident Coaches
We're working locally and nationally to bring together an exceptional roster of resident coaches who will make Kraken Community Iceplex their main coaching facility to teach group programs as well as private sessions.
If you are interested in becoming a resident coach at KCI, contact us below.
Lesson Inquiries
Private Skating Lessons
Currently, we are not taking private lesson inquiry form requests.  When we have openings and availability we will open the link at that time.
Skaters must register for ice time with KCI (public skate or freestyle) in addition to paying the coach directly for the lesson time.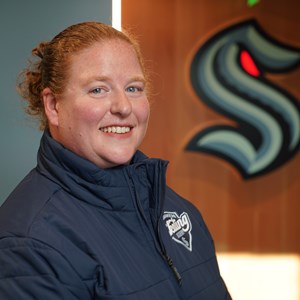 Sarah Berkshire
Started skating when I was 10 years old in Anchorage Alaska. I competed with Glaciers Edge Junior and Intermediate level Synchronized Skating Teams through highschool. I coach and compete with the Washington Ice Emeralds Synchronized Skating Organization. Currently working on Gold Moves and Pre-Silver Solo Ice Dances.
Levels/abilities coaches: Beginner Adult and Youth. Moves in the field. Synchronized skating.
Coaching Philosophy: I believe that basic skating skills are fundamental in progressing as a skater and encourage all skaters to continue to work on these no matter their level. My background as a physical therapist allows me to have an unique perspective on body alignment and movement patterns and help correct these during lessons.
Education: Doctor of Physical Therapy from Regis University.
Hobbies: I own Twist Physical Therapy and specialize in working with ice skaters off the ice to improve their body alignment, flexibility and muscle control. When not on the ice coaching, skating or seeing clients in my PT practice, I am spending time with my husband and daughter enjoying the PNW.
Rate: $35 per 30 minute lesson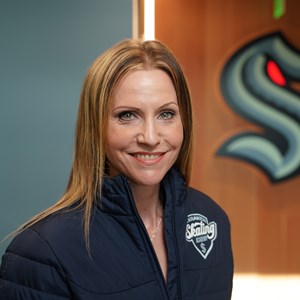 Ellen Berg
PSA Certified in Freestyle and Hockey 1 + 2
USFS Gold Medalist in Freestyle
USFS Silver Medalist in Figures
Sr. Ladies competitor at regionals and sectionals; alternate at US Nationals
Professional ice skater with Disney on Ice, Ice Capades, and Holiday on Ice
Levels coached: Beginner through adult; recreational and competitive levels in figure skating and hockey
Coaching philosophy: Skating is a lifelong sport and I consider it a privilege whenever I am asked to help a beginner establish a solid skating foundation or help a competitive skater reach their goals. 
Rate: $45 per 30-minute lesson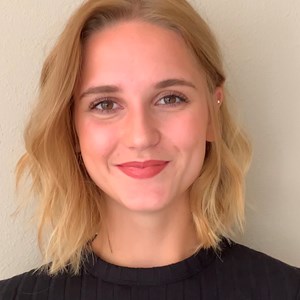 Bella Bergeron
LTS USA Certification
Skating Experience: Gold medalist moves in the field, Novice Freeskate
Levels coached: beginner snowplow - freeskate 5/6, Adults all levels
Education: Senior Finance student at the University of Washington
Hobbies: I love to bake, play guitar. I also play hockey and have been on and taught a synchronized skating team.
Rate: $35 per 30 minute lesson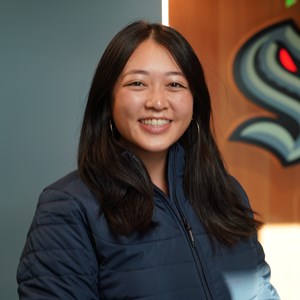 Kalina Chung
USFS Gold Medalist
Regional Champion
10+ years coach/choreographer experience; regional level, adult sectional + national levels
Specializes in Freestyle and Choreography
Award-winning Artist
B.F.A. Sculpture/Three Dimensional Forum (3D4M), University of Washington
Hobbies: skiing, dogs, plants, cooking, exploring
Rate: $44 per 30 minute lesson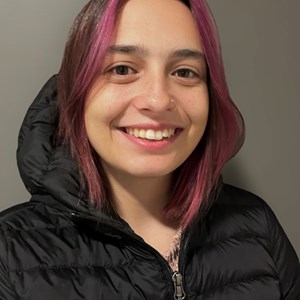 Heather Collick
PSA Accredited
Youngest athlete to become a Gold Medalist in Moves in the Field (2006)
Trained under world-renowned coaches and Olympic athletes for 11 years as a competitive skater. Gold medalist in Moves in the Field and Novice Freestyle test
Levels coached: I coach all levels from beginners to senior ladies and men. I specialize in jumps and spins.
Coaching philosophy: I want to help skaters grow as athletes and as individuals in a safe and healthy environment.
Education: B.A. Global Studies, Master of Nonprofit Management
Hobbies: I love rock climbing, hiking, and taking my dog out for walks
Rate: $40 per 30 minute lesson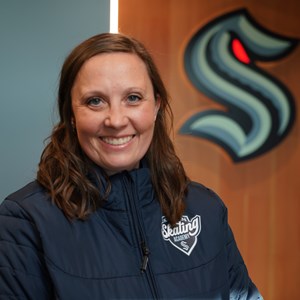 Julie Draney
Member of PSA and USFS
Specializes in Freestyle, Moves in the Field, and Ice Dancing
Triple USFS Gold Medalist
Sectional Competitor; 10 years competitive experience
Trained at Broadmoor Arena
Cast member of 2002 XIX Olympic Winter Games 
Rate: $45 per 30 minute lesson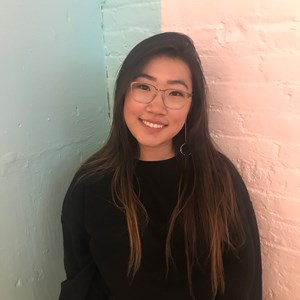 Angela Dong
Competed for Boston University in college
Taught Learn to Skate for 9 years
Gold Medalist MIF, Pre-Silver Ice Dance, Novice Freestyle
The goal is always to make sure the skater is having fun, safe, healthy, and learning! And it's a huge plus when the skater feels strong and beautiful :) My coaching style is that I love analyzing the form, we will: do, observe, analyze, and improve the movement with each time we try!
Rate: $30 per 30 minute lesson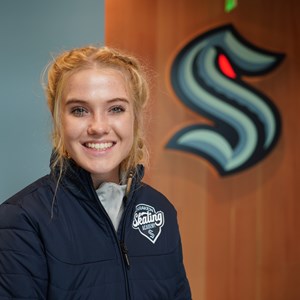 Kai Galley
Nine States Regional Gold Medalist (2015)
Regional Competitor
4 years experience Learn to Skate USA
recipient of the Silver Level Achievement award via USFSA
Graduating Seniors Program
Member of Pro Skaters 2017/2018
Hobbies: Exploring the PNW, bouldering, graduated political
science and communication at UW
Rate: $37.50 per 30 min lesson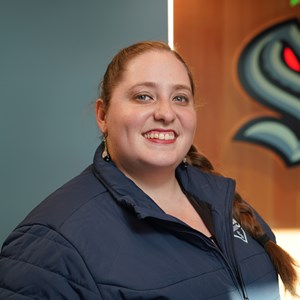 Marie Greishaber
Bio coming soon.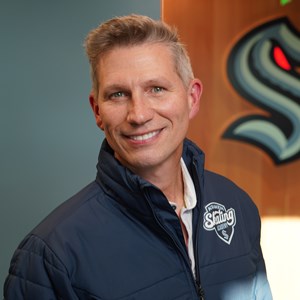 Darin Hosier
PSA Master Rating in Singles
Junior Worlds Coach, 2x JGP Finals 
Coach Single - Quad Jumps
PSA Registered rating in Figures (1996)
PSA Ranking VI in Singles
Team USA coach (2007, 2008, 2020-Present)
PSA PNW Presidential Award of Excellence (2019)
PSA Betty Berens' Edi Award Recipient (2013)
USFS Adult National Coach (1995-2005)
Touring Professional Skater (1989-1992)
USFS Double Gold Medalist (1988-Figures + Free Skating)
USFS National Medalist (1984 - Novice)
George Mason University Graduate (1989)
Rate: $60 per 30 minute lesson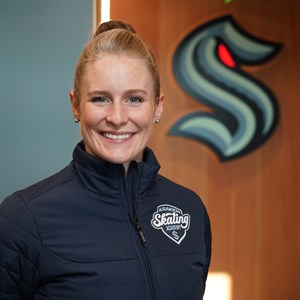 Sally Jeanne Watkins
USFS Triple Gold Medalist: Freestyle, Moves in the Field, Ice Dance
PSA Level III Ranking
15 years coaching experience
Specializes in preparing athletes to compete under the International Judging System
Coach of Excel National Final and Sectional Singles Final competitors
Intercollegiate National Champion (2008)
Former Professional Skater with Bietak Productions and Ice Theater of New York
Bachelors degrees in Engineering - Physics and Chemistry (Miami University)
Masters Degree in Environmental Engineering (NYU)
Rate: $50 per 30 minute lesson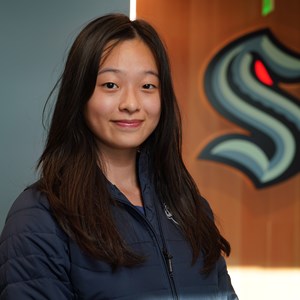 Danika Lee
3 Time US Women's Sectional Competitor
USFS Double Gold Medalist
9 years of Competitive Figure Skating
Attending the University of Washington
Rate: $37.50 per 30 min lesson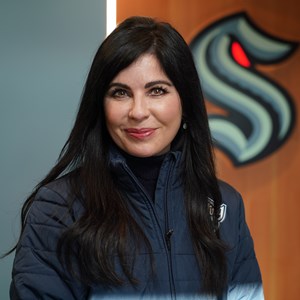 Corrie Martin
Junior Worlds and International Choreographer
Team USA Coach 2007-2008, 2020-2021
USFSA National Component Camp Choreographer/Demonstrator
PSA PNW Presidential Award of Excellence (2019)
USFS Athletic High Performance Coach
Spin Specialist
Choreographer for Seattle Ice Theater
Pre-certified in Gyrotronics
Stretch class instructor
International Touring Professional Figure Skater
Bachelors in Psychology + Minor in Theater, University of Washington
Hobbies: Cherishing time with my son, mom and walking my dog. Painting, and selling real estate.
Rate: $60 per 30 minute lesson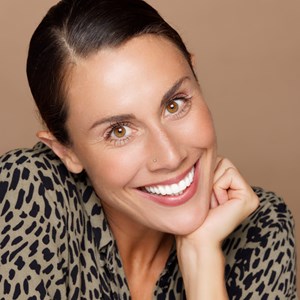 Anna Matuszewski
PSA Member
USFS Triple Gold Medalist
Coaching all levels
Coaching philosophy: create a fun and nurturing learning environment while providing excellent skating technique and artistic development
Hobbies: Professional Dancer and Choreographer. Lead dancer and choreographer for Macklemore
Rate: $50 per 30 minute lesson
Kellie McNulty
Bio coming soon.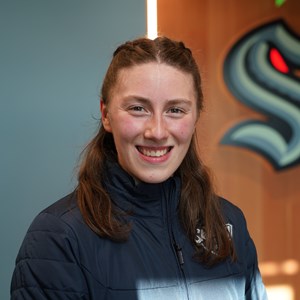 Sasha Mullen
Bio coming soon.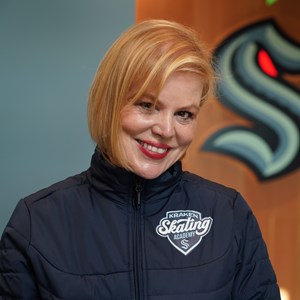 Becci Safai
USFS Double Gold Medalist
US Open Challenge Cup Champion
US Open Bronze Medalist
Founder + Director, Seattle Ice Theater
27 years coaching experience
USFS and PSA Member
Hobbies: hiking, skiing, music, and spending time with my family
Rate: $50 per 30 minute lesson
Cindy Taylor
PSA Rating Registered in Figures and Freestyle
30 years teaching experience
Professional Skater with Holiday on Ice in Europe
US Open Professional Championship Coach
Trained by world and Olympic level coaches
Coach of Northwest Pacific Regional Champion
Former Coach of Current US and International Coaches
Hobbies: photography, cooking, and traveling with my family and friends.
Rate: $40 per 30 minute lesson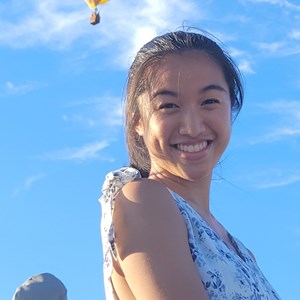 Monica Tschang
Licensed Learn to Skate Coach for 6 years
Skating Experience: Solo Ice Dance Nationals, Ice Dance Gold and International Tests, Moves in the Field Senior Test
Levels coached: Learn to Skate Snowplow, Basic Skills, and Freestyle; Ice Dance; Moves in the Field
Hobbies: Martial arts, finding and eating the best local desserts, and exploring the outdoors
Rate: $40 per 30 minute lesson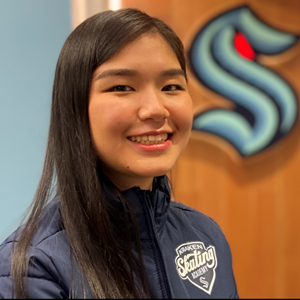 Hannah Yi
Gold medalist in Freestyle
Gold Medalist in Moves in the Field
Studying education at University of Washington
Rate: $37.50 per 30 min lesson
Learn to Skate Instuctors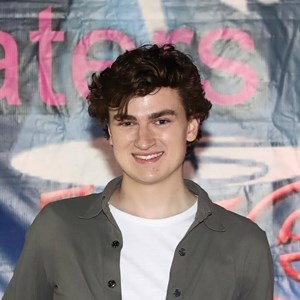 Max Anderson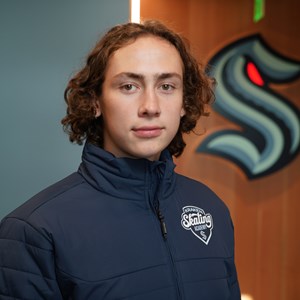 Ivan Brown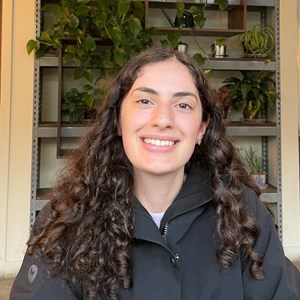 Amel Hassan
Not pictured:
Lucas Broussard
Mina Cheney
Eebie Harper
Celia Ho
Ana Jackson
Dasha Kovalenko
Mia Takiguchi
Guest Coach Program
Guest coaches are welcome to visit Kraken Community Iceplex maximum of 2-times a week.  Any questions in the meantime, please contact the Kraken Skating Academy.