HOURLY ICE RENTALS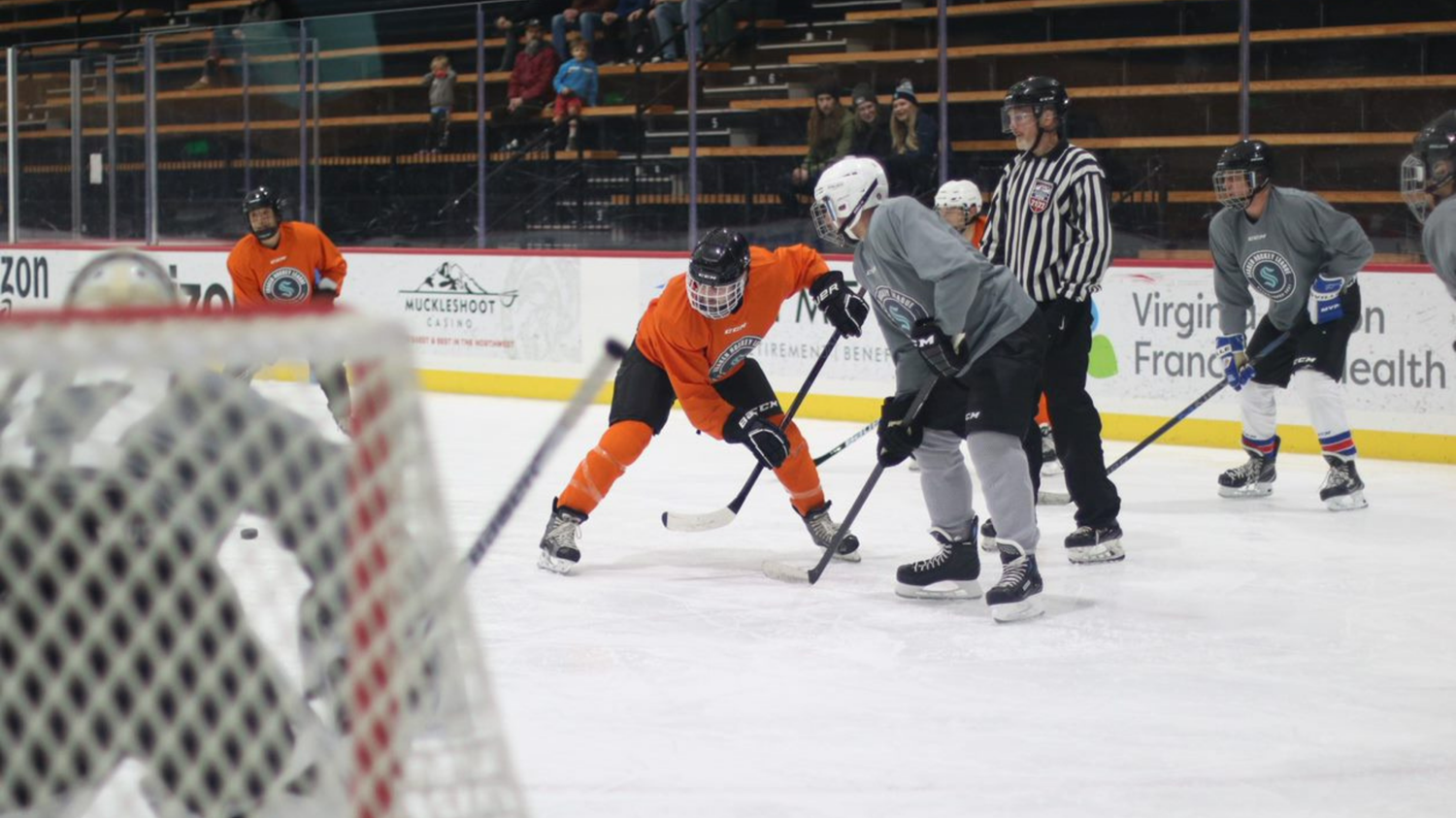 Want the rink to yourself and your friends for a hockey game or a group open skate? 60, 75 or 90 minute ice rentals available morning, afternoon and late into the evenings. Each rink offers music & mic system and scoreboard.
Ice rental for self managed hockey practices/games include use of locker room/s 30min pre-post rental and nets out on the ice. Group should bring own pucks and players wear own equipment. Helmets required for anyone playing hockey. 
Ice rental for group open skate parties can accommodate up to 300 guests. Rental skates and skate aids available. Upgrade your rental by ordering rink-side catering or inquire about additional activities such as broomball, curling or shot of goal clinics in one section of the rink.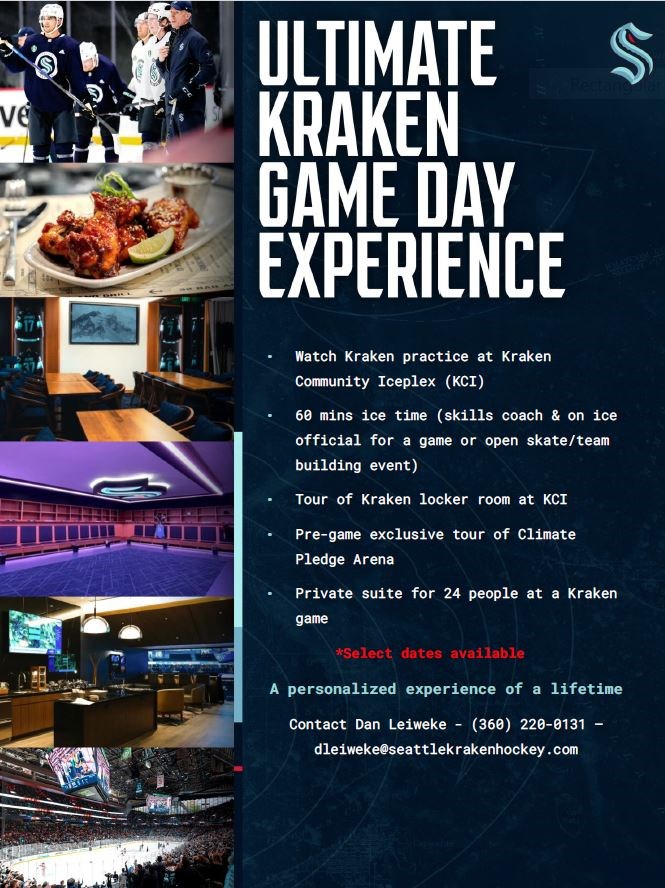 BIRTHDAY PARTIES
PARTY ROOM + PUBLIC SKATE
Simple to plan, fun and memorable Kraken birthday experience package includes:
45-min pizza party for 10. The birthday kid + nine friends. 
Semi-private party room. Room is divided into two party sections. 
Cheese pizza & assorted Pepsi sodas and water for 10.

Dessert not included. Families are welcome to bring their own. 

Kraken gift for the birthday kid + Kraken party favors for the guests.
Skate rentals and admission to the public skate session for the 10 party kids following the pizza party.
FRIDAYS 
5:30pm-6:15pm Pizza Party + 6:00pm-7:45pm Skating
SATURDAYS 
2:45pm-3:30pm Pizza Party + 3:30pm-5:15pm Skating
5:15pm-6:00pm Pizza Party + 6:00pm-7:45pm Skating
SUNDAYS
12:45pm-1:30pm Pizza Party + 1:30pm-3:15pm Skating
3:15pm-4:00pm Pizza Party + 4:00pm-5:45pm Skating
Package price $400
+ Up to 4 spots for additional party guests at $30 pp.
Please note birthday party cancellation or rescheduling policy.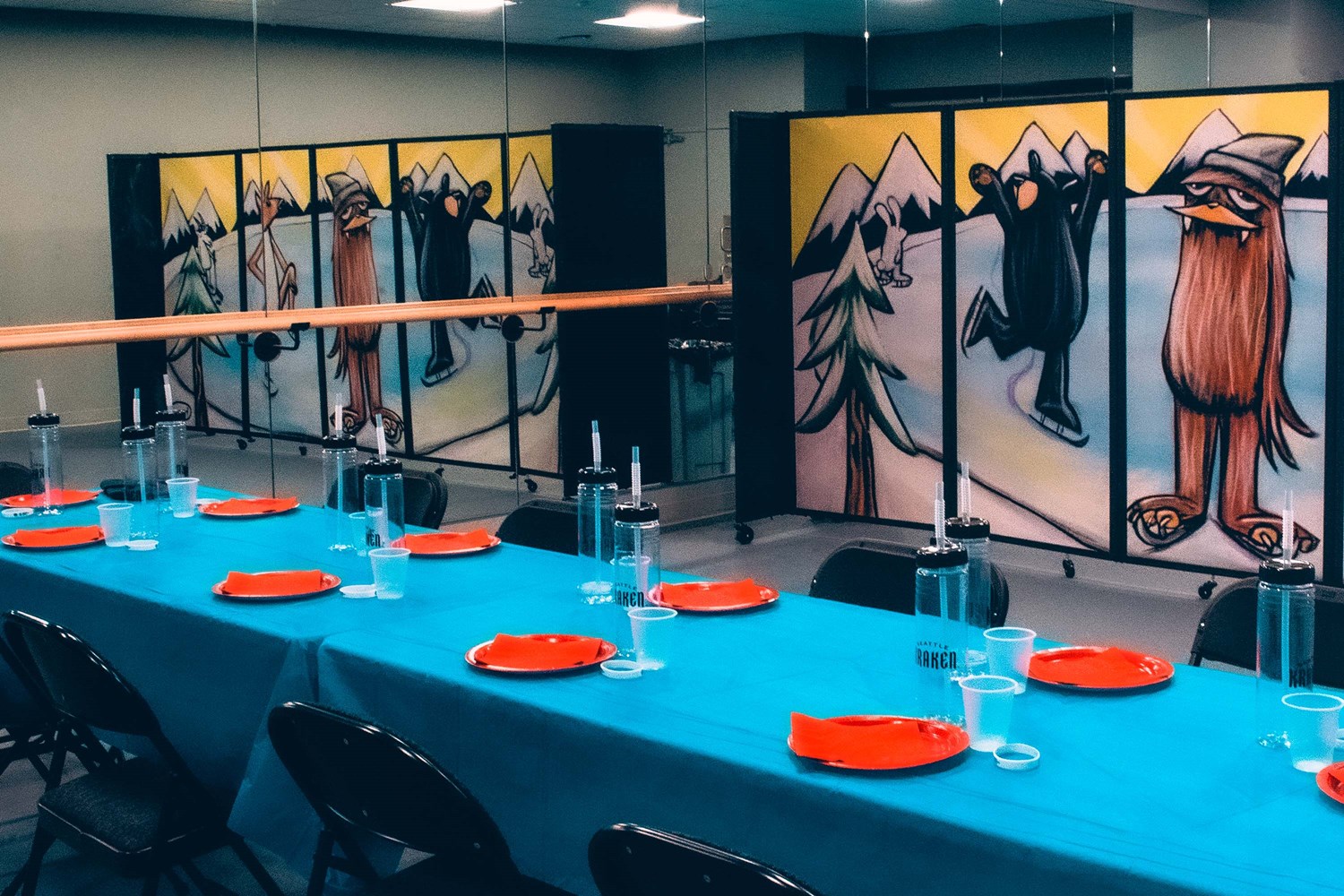 Select the button above and choose "Rentals" on the left-hand menu
Choose Birthday Party Room under "Type"
Select your desired date range 
If you see a party time that you are interested in, select the party time
TO MAKE AN INSTANT BOOKING 
Ensure you are logged into DaySmart. The party will be added to your cart and the booking will be confirmed when you check-out from your cart. If you need to make additional adjustments to the booking, please see the confirmation email for next steps. 
TO MAKE A BOOKING REQUEST 
Ensure you are NOT logged into DaySmart and complete the Reservation Request form. A KCI party booking manager will contact you to confirm availability and schedule the reservation. Bookings are confirmed on a first-come, first-served basis.  
To reserve a party at 14-days out, please email Guest Services. 
EVENTS, MEETINGS & TEAM BUILDERS
The incredible Kraken atmosphere and décor throughout the building, bundled with a selection of novice to advanced ice activities and delicious food & beverage, makes for a once-in-a-lifetime memorable experience for business meetings, community outings or friends and family gatherings for you and your guests at Kraken Community Iceplex.
Event Spaces
Three NHL-sized ice rinks for on-ice activities for up to 300 people per rink
32 Bar & Grill offers private dining, semi-private section reservations or full-buyouts

The Captain's Room is a private dining 35-person dining room with VIP views down onto the Kraken main training rink. Room rental requires a minimum spend of $1500.  
Team Builder or Group Activities
Open Skate, Hockey Demos, Broomball, Curling or more ... 
Catering
Private Dining, Group Bar & Grill Dining and Rink-side Catering