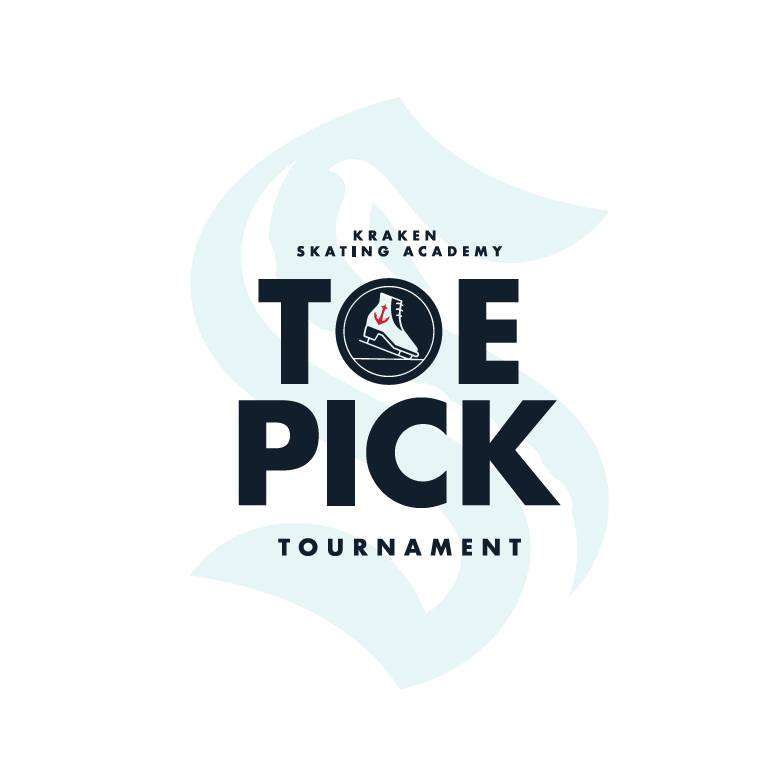 2023 Toe Pick Tournament
Presented by Kraken Skating Academy
August 11 - 13th, 2023
The Kraken Skating Academy is proud to present the first annual Toe Pick Tournament! The competition is open to all skaters who are currently eligible members of either the Learn to Skate USA program and/or are full members of U.S. Figure Skating. Events included in the competition are as follows:
Basic Program Event: Snowplow Sam, Basic 1 through Basic 6
Free Skate Program Events: Pre-Free Skate through Free Skate 6
Well Balanced Program Events: No Test, Pre-Preliminary through Preliminary
Special: Jump Challenge, Spin Challenge
Hockey Skills Challenge
Axel Tournament
Synchronized Skating
2023 Toe Pick Tournament Announcement
Practice Ice
Practice Ice will be available at Kraken Community Iceplex for $20 per 20 minutes. Registration will take place via our DaySmart registration platform. Registration date TBA.
NOTE: Depending on the size of the competition, practice ice selection might be limited to one- or two-time choices. We cannot guarantee additional practice sessions.
If space permits, additional practice ice will be available for purchase during the competition for $20.00/20 minutes at the registration desk with credit/debit only. No Changes - No Refunds. Practice ice fees are nonrefundable, and you may not assign your practice ice to another skater.
Venue
All events will take place at Kraken Community Iceplex. See link below for further information about the venue and parking.
accommodations
Hampton Inn & Suites by Seattle/Northgate is the host for our hotel block for the competition.  Please use the booking link below for special pricing.
PNIC Basic Skills Series
The Toe Pick Tournament is part 2023 Basic Skill Series by PNIC. To find out detail information on series, visit PNIC Basic Skill Series through the link below.
General series information:
Skater must register to be part of the series before registering for competition.
Must compete in at least 2 Basic Skill Series Competitions. List of competitions can be found on PNIC Basic Skill Series
Skaters will earn points to get them invited to Championship Round at PNIC Championships.