Girls Hockey at KCI
If you're looking for a girls-only environment for your hockey player, look no further! Kraken Community Iceplex has a variety of options available for girls-only teams, classes and camps.
Not sure if your daughter would prefer a co-ed or girls-only environment? Reach out to our Youth Hockey staff through the link below and we will be happy to answer questions.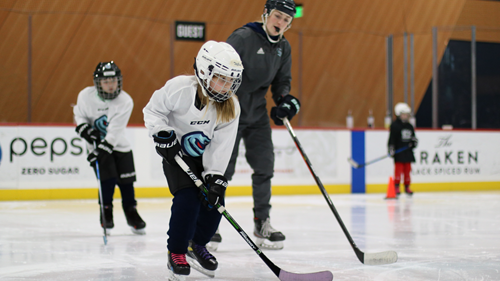 Learn to Play
New for the 2023-24 season, we are offering girls-only youth Learn to Play sessions for the following:
NHL Learn to Play (ages 5-9)
Kraken Learn to Play 2 (ages 5-9)
Kraken Learn to Play 3 (ages 5-9)
Sea-League (ages 10-16)
8U, 10U, & 12U Jr Kraken
We offer rec-level girls-only teams for girls ages 7-12. These teams will play in local leagues against other girls and coed teams.