40+ Draft League
This redraft program is a fun, relaxed program that is open to all skill levels ages 40 and up. Though it averages Division 5 or USA Hockey Level D (Intermediate) players. Wednesday evenings only.
Players sign up as individuals and each season begins with captains drafting players to create their teams. Game format is traditional 5v5. Games are played at various rinks across the Seattle region, including KCI.
Season begins Wednesday, 2/1.
Free agent registration is now open!
40+ Advanced Division
We have also introduced an advanced division for 40+ beginning this upcoming Winter season, targeted for players will a higher skill level. Advanced Division plays Tuesday evenings only.
Season begins Tuesday, 1/31.
Players may participate in both the Wednesday 40+ Division and Tuesday Advanced Division.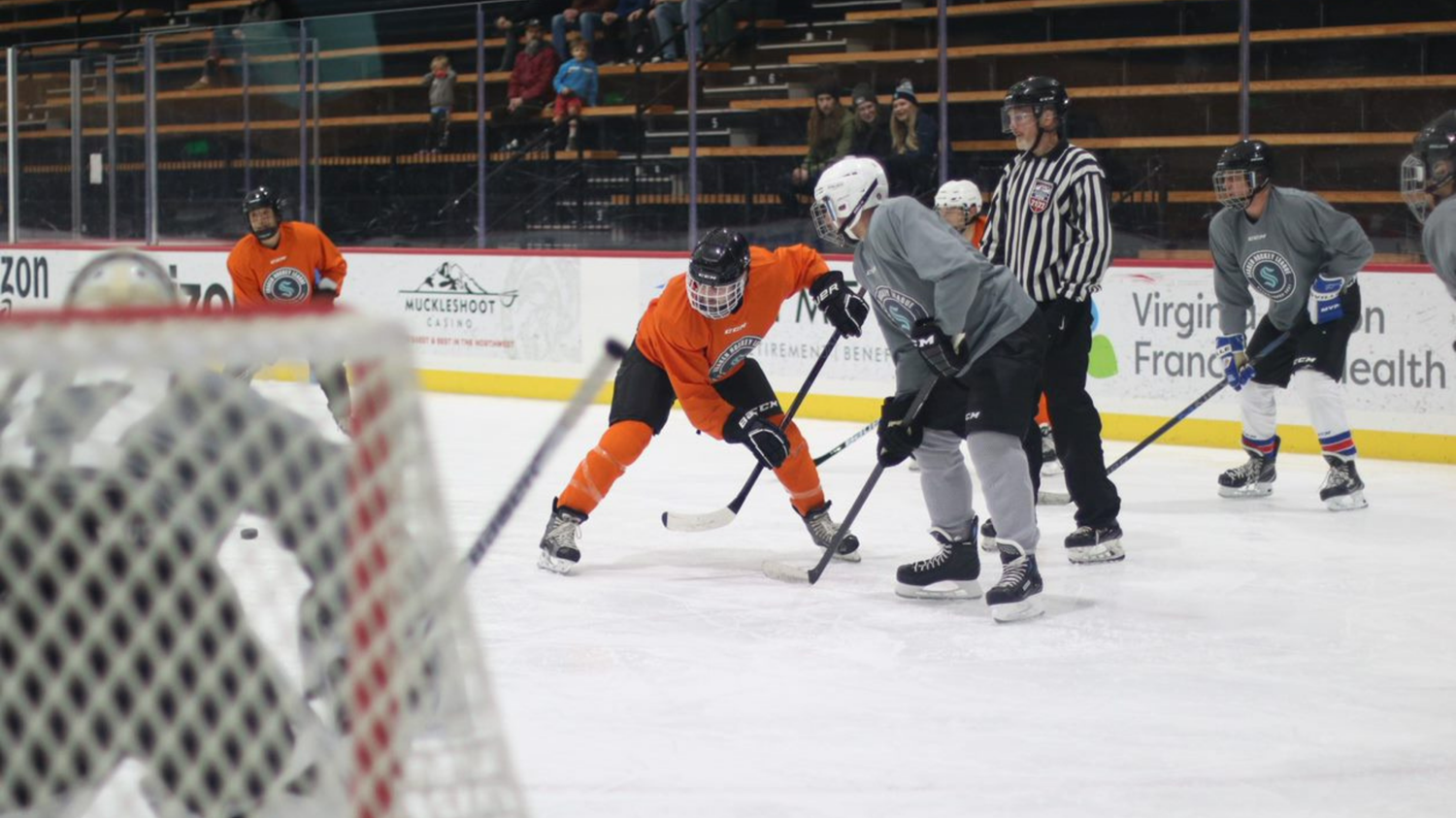 PRE-REQUISITE
Previous playing experience or an Adult Learn to Play Class.
SEASON
Each season includes 14 games + 2 min play-off games. Game schedule will be announced at beginning of each season. 
Fall Season: mid-September - December 2022.  
Winter Season: January - April 2023. 
Summer Season: May - August 2023. 
Breaks during most national holiday long-weekends.   
SCHEDULE & LOCATIONS
Weekly 75-min games.
40+ Draft League - Wednesday evenings only.  
40+ Advanced Division - Tuesday evenings only.
Games played at rinks across several Seattle-area rinks, including KCI. 
COST
Player: $520.16
Team Captain: $420.16 
Goalie: $100  
$49 Annual Kraken Hockey League Player Pass + Valid USA Hockey Membership required for each participant.
Payment plans available.  
REQUIRED GEAR
Players provide their own:
Socks
Helmet (Full cage recommended)
Gloves, elbow pads, shoulder pads, shin pads, jock, hockey pants
Hockey stick
Hockey skates 
League provides loaner jerseys, referees and score keepers.
USA Hockey Registration
Prior to participating in any hockey programs through Kraken Community Iceplex, all participants must acquire a USA Hockey Membership.