KRAKEN HOCKEY LEAGUE
Kraken Hockey League is an adult (18+), all levels, co-ed recreational hockey league.
LOCATIONS
Kraken Hockey League games are played at Kraken Community Iceplex and rinks across the Seattle area including Kent, Mountlake Terrace, Lynnwood, and Everett.
Kent Valley Ice Center
Olympic View Arena
Lynnwood Ice Center
Angel of the Winds Arena
Xfinity Community Ice
Accesso ShoWare Center
Sprinker Recreation Center
CURRENT PROGRAMS & SEASON REGISTRATION
STATS, SCHEDULE & MORE
Kraken Hockey League portal with latest game schedules, league standings, rosters and player stats.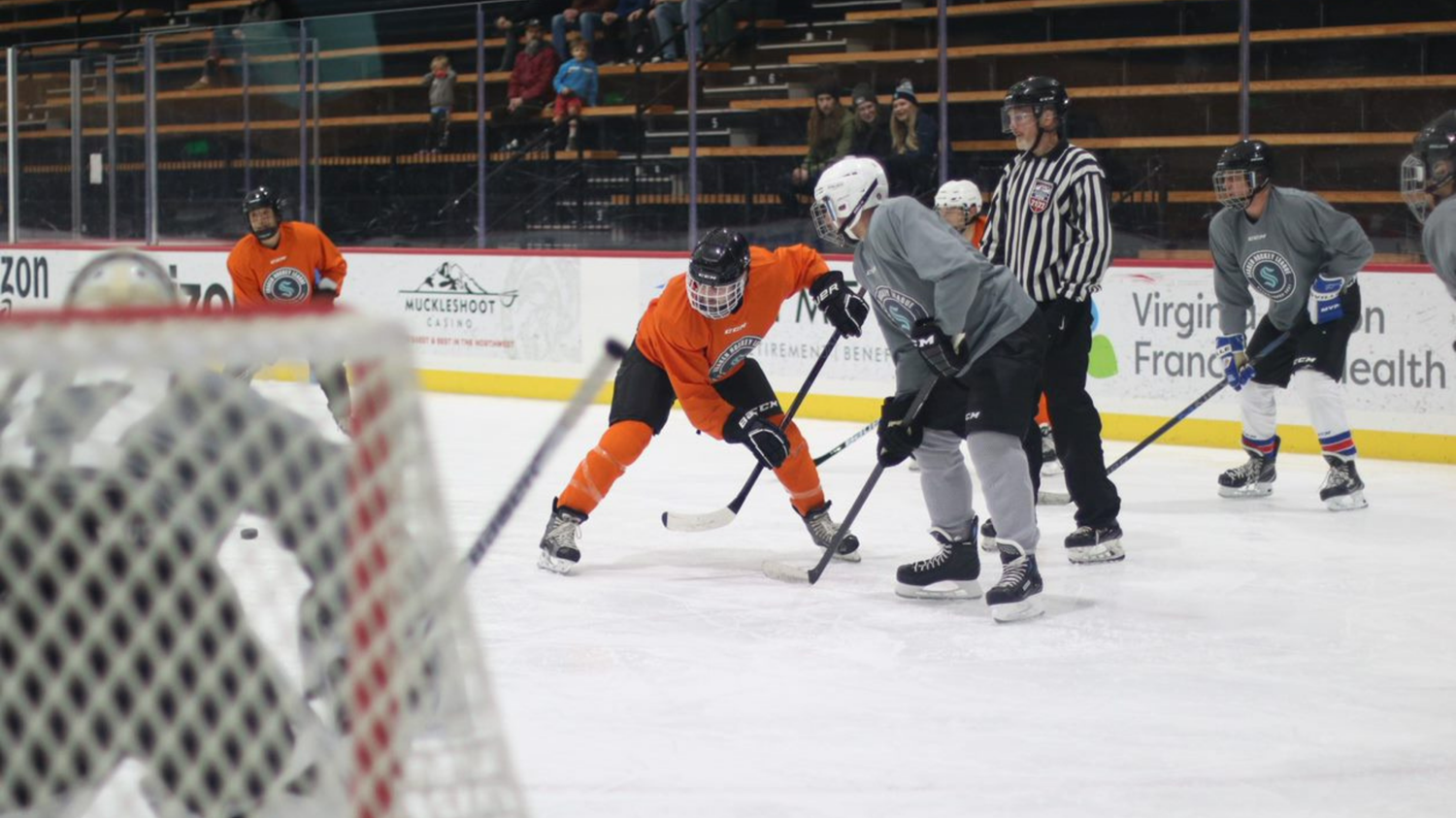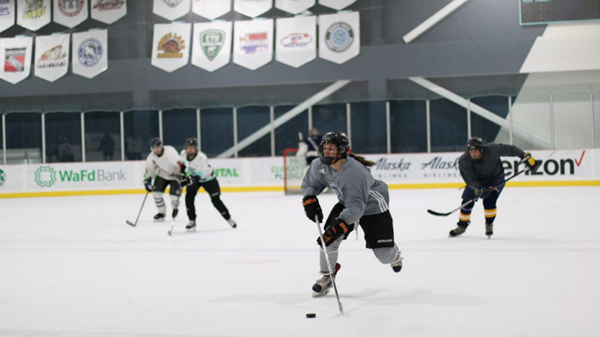 Player Pass
Tap into the energy and excitement of Seattle's growing hockey community. A player pass to the Kraken Hockey League offers all players additional ways to be part of the historic launch of the NHL's 32nd franchise.
Annual $49 Player Pass benefits include: 
Access to join any of the Kraken Hockey League leagues, programs and clinics 
2 free stick & puck sessions at Kraken Community Iceplex 
1 complimentary skate sharpening at Kraken Community Iceplex
Priority access to Great Puckaroo Roundup Tournaments 
GAME & LEAGUE FORMAT
Game Duration: Games are scheduled for 75-mins with 3x18-min periods. First 2 periods, run time. Third period, stop time.  
Game Format: Standard 5v5 games. League provides 2 USA Hockey refs and 1 scorekeeper. 
Divisions: Kraken Hockey League offers many divisions for players to choose from
Division 1-2: Highly skilled players that have often played high school, college or professional hockey (A and B Levels)
Division 3-4: Intermediate players (C Level)
Division 5-6: Experienced novice players (D Level)
Division 7-8: Novice players (D Level)
Division 9-10: Beginner players (E Level)
Play-off Format: Double-Elimination (2+ Games for Fall/Winter season)
Single-Elimination (1+ Game for Summer season)
Prizes: 1st & 2nd place prizes per division. 
TEAMS
The league includes more than 2,000 registered players and 100+ teams across 24 divisions & subdivisions.
If you've played for years or never laced up skates, the league is inclusive to players of all skill levels and works hard to have parity within each division while offering a fun and competitive environment.
To best build competitive, evenly balanced games, we begin with pre-season skill level evaluation skates. Following these sessions, we host a draft event where captains of teams needing new players select players. Play is regularly monitored and players and/or teams can move up or down in skill levels as needed to keep parity.
EARN A FEW EXTRA $$
Skate Sharpening
We offer skate sharpening for hockey and figure skates. We do not sharpen goalie skates. All prices below are after tax.
New hockey skates (never sharpened) - $15
Hockey skates - $12
New figure skates (never sharpened) - $18
Figure skates - $15
We cannot guarantee immediate turnaround for sharpening. Typical wait times are 30-60 minutes, and can run up to 24 hours depending on facility activity.
Gift Cards Available
Looking for the perfect gift for the skater or hockey player in your life? Give them a gift card to the Iceplex! Gift cards can be purchased for any amount and used for any activity the Iceplex offers.
Login or create your DaySmart account and go to the gift card dashboard linked below.
There is a minimum amount of $15, but you can also create custom amounts by editing the "Amount" field.
A redemption code will be sent to both you and the recipient via email.
The purchaser must have an account with DaySmart to purchase and assign to the recipient. Gift cards are valid for Iceplex programming only and are NOT redeemable at the Kraken Team Store, 32 Bar & Grill or Starbucks.