Lost Anchor Adult Hockey Tournament
REGISTRATION CLOSING SOON!
July 29 - July 31
Recreational to Intermediate levels
We are excited to welcome teams from all regions to play in our inaugural Lost Anchor Tournament! Participating teams will be invited to a Friday night kickoff event at 32 Bar & Grill featuring a limited edition cocktail made specially for us. All players will receive a t-shirt and two beer tickets. 
Each team is guaranteed 4 games throughout the tournament weekend. An All Star Skills Competition will be held Saturday. 
Divisions will be decided after registration has closed.
Team fee is $1,900 with a $250 deposit required on registration. Tournament staff will review each submission for suitability to the event. Upon acceptance, participants will be charged the remainder of the total fee.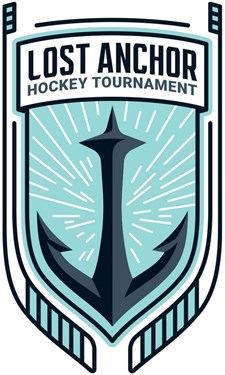 KRAKEN HOCKEY LEAGUE
Kraken Hockey League is an adult (18+), all levels, co-ed recreational hockey league. Formerly the Greater Seattle Hockey League (GSHL), Kraken Hockey League play began Fall 2021.
Summer registration is now open.
LOCATIONS
Kraken Hockey League games are played at Kraken Community Iceplex and rinks across the Seattle area including Kent, Mountlake Terrace, Lynnwood, and Everett.
Kent Valley Ice Center
Olympic View Arena
Lynnwood Ice Center
Angel of the Winds Arena
Xfinity Community Ice
Accesso ShoWare Center
Sprinker Recreation Center
CURRENT PROGRAMS & SEASON REGISTRATION
This rec league divides its 100+ teams across divisions 1-10 and sub-divisions A-D based on skill level. We're pleased to have teams who have been playing with us for 20+ years and are equally excited to welcome new players.
Fall/Winter Season (September - April) includes 23 regular-season games plus double-elimination playoffs
Summer season (May - August) includes 13 regular-season games plus single-elimination playoffs
Register as a full team or join as an individual player to be placed on a team.
This redraft program is a fun, relaxed program that is open to all skill levels ages 40 and up. Though it averages Division 5 or USA Hockey Level D (Intermediate) players. 
Fall Season (September - December) includes 14 regular-season games plus single-elimination playoffs (2 game guarantee)
Winter Season (January - April) includes 14 regular-season games plus single-elimination playoffs (2 game guarantee)
Summer Season (May - August) includes 14 regular-season games plus single-elimination playoffs (2 game guarantee)
Register as an individual player to be placed on a team.
This is a 4-team Women's division playing its games on Tuesday nights. All skill levels are welcome.
Games are played at local rinks throughout the region, with majority being held at Kraken Community Iceplex.
Summer Season Info
Season set to begin on May 31st
10-game regular season plus 2 playoff games (12 total)
Individual registration fee is $368.16 plus required $30 jersey fee

All participants must also have USA Hockey Membership and Kraken Player Pass

Teams will be created by the league to ensure balance
If you haven't played before and want to get ready to join a league, classes run 8-10 weeks and will cover the fundamentals to prepare you to join a team. 
Lost Anchor Tournament to be held 6/29-6/31 at Kraken Community Iceplex.
In addition to regular league play and the Lost Anchor Tournament, players can participate in tournaments throughout the year, including the Great Puckaroo Roundup Outdoor Tournament Series in Winthrop, Washington.
STATS, SCHEDULE & MORE
Kraken Hockey League portal with latest game schedules, league standings, rosters and player stats.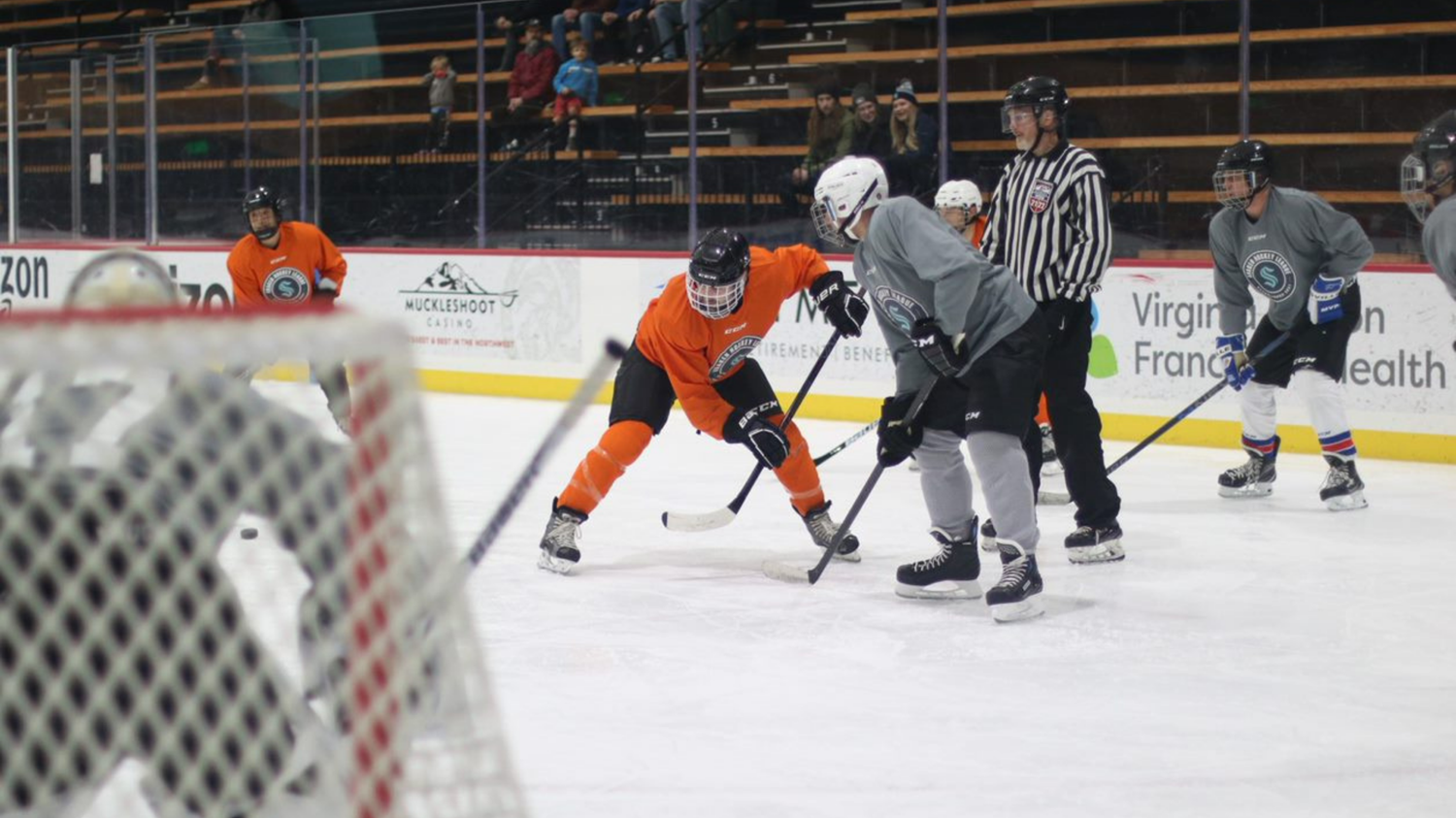 Player Pass
Tap into the energy and excitement of Seattle's growing hockey community. A player pass to the Kraken Hockey League offers all players additional ways to be part of the historic launch of the NHL's 32 franchise.
Annual $49 Player Pass benefits include: 
Access to join any of the Kraken Hockey League leagues, programs and clinics 
2 free stick & puck sessions at Kraken Community Iceplex 
1 complimentary skate sharpening at Kraken Community Iceplex
Inaugural season player gifts 
Priority access to Great Puckaroo Roundup Tournaments 
GAME & LEAGUE FORMAT
Game Duration: Games are scheduled for 75-mins with 3x18-min periods. First 2 periods, run time. Third period, stop time.  
Game Format: Standard 5v5 games. League provides 2 USA Hockey refs and 1 scorekeeper. 
Divisions: Kraken Hockey League offers many divisions for players to choose from
Division 1-2: Highly skilled players that have often played high school, college or professional hockey (A and B Levels)
Division 3-4: Intermediate players (C Level)
Division 5-6: Experienced novice players (D Level)
Division 7-8: Novice players (D Level)
Division 9: Beginner players (E Level)
Play-off Format: Double-Elimination (2+ Games for Fall/Winter season)
Single-Elimination (1+ Game for Summer season)
Prizes: 1st & 2nd place prizes per division. 
TEAMS
The league includes more than 2,000 registered players and 100+ teams across 19 divisions & subdivisions.
If you've played for years or never laced up skates, the league is inclusive to players of all skill levels and works hard to have parity within each division while offering a fun and competitive environment.
To best build competitive, evenly balanced games, we begin with pre-season skill level evaluation skates. Following these sessions, we host a draft event where captains of teams needing new players select players. Play is regularly monitored and players and/or teams can move up or down in skill levels as needed to keep parity.
EARN A FEW EXTRA $$
SHOP FOR KRAKEN HOCKEY LEAGUE GEAR
Show your pride! Shop for your Kraken Hockey League apparel and gifts for friends and family.     
Skate Sharpening
$10
We offer skate sharpening for hockey and figure skates. We do not offer sharpening for goalie skates. We cannot guarantee immediate turnaround for sharpening. Typical wait times are 30-60 minutes, and can run up to 24 hours depending on facility activity. 
Gift Cards Available
Looking for the perfect gift for the skater or hockey player in your life? Give them a gift card to the Iceplex! Gift cards can be purchased for any amount and used for any activity the Iceplex offers.
Login or create your DaySmart account and go to the gift card dashboard linked below.
There is a minimum amount of $15, but you can also create custom amounts by editing the "Amount" field.
A redemption code will be sent to both you and the recipient via email.
The purchaser must have an account with DaySmart to purchase and assign to the recipient. Gift cards are valid for Iceplex programming only and are NOT redeemable at the Kraken Team Store, 32 Bar & Grill or Starbucks.