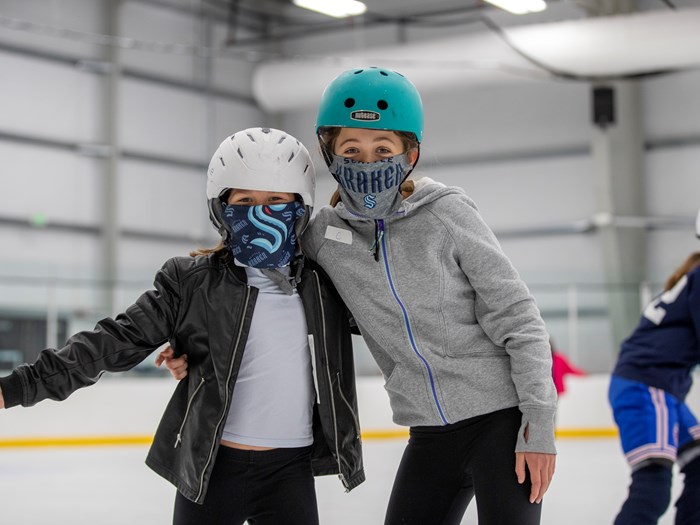 SCHOOL & CAMP FIELD TRIPS
Students will discover a new way to get active with skating or hockey lessons, open skating, and even have a chance to watch the Seattle Kraken practice. Kraken Community Iceplex can host pre-school, elementary up through high school & college groups of students for field trips.
60-min open skate for up to 300 people.
Skate rentals included 
$11 per person (min $425/hr rental fee)
Add ons: 
Make it a pizza party, bring in instructors for a 30-min skate lesson or inquire about timing to watch a Kraken practice.   
DONATION REQUESTS
Please note a few guidelines for donation requests: 
Due to COVID-19 protocols, we are unable to fulfil requests for player appearances.
To be eligible for a donation, your organization must have 501(c)3 tax exempt status and reside within 75 miles of Climate Pledge Arena or be a youth hockey program in one of these five states: AK, ID, MT, OR, WA. 
We will prioritize requests submitted by organizations whose mission(s) closely align with our three pillars of hockey access, youth homelessness, and environmental justice. We do not donate to political, religious, advocacy, or special interest groups, or any organization that may in any way conflict with our goals, programs, or affiliations.
Submit a request at least 8-weeks prior to desired in-hands date. We will provide a response to all requests – whether approved or not – so please refrain from contacting our offices to check on the status of your request.
You may access our full list of guidelines for in-kind donations here. If you have any questions, please contact us at donations@seattlekrakenhockey.com