Registration
Registration is now open.
Space is limited at each division. A wait-list will open once a division is full.
10U, 12U & 14U C are currently full and a wait-list has opened.
Tryouts & Evaluations
The Kraken Youth Hockey Association (KYHA) is proud to announce 10U and 12U Select teams and 8U-14U C teams for the 2022-2023 season.
Tryouts for 10U and 12U Select will be held Thursday, August 25 through Sunday, August 28.
Evaluations for 8U to 14U C teams will be held Saturday, September 10 through Sunday, September 11.
For questions, please contact our Youth Hockey team.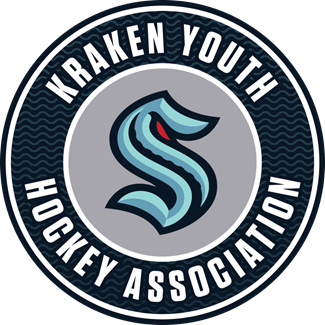 Jr Kraken Tryout Schedule
All sessions are on Starbucks Rink
Thursday, August 25th
10U - 5:15 pm
12U - 6:30 pm
Friday, August 26th
10U - 5:15 pm
12U - 6:30 pm
Saturday, August 27th
Goalie - 9:00 am (all goalies)
10U - 10:00 am
12U - 11:15 am
Sunday, August 28th
10U - 9:30 am
12U - 11:00 am
Tryout FAQs
10U Team - 2012 & 2013 birth years
12U Team - 2010 & 2011 birth years
Tryouts will consist of a mix of individual skill drills, small area games and scrimmages. Players will be given a minimum of two sessions before they are either invited to continue or released from the tryout process.
Our coaches have played and coached all over the world and bring a wealth of knowledge to our organization. They have seen tryouts held in various times throughout the spring and summer. By holding our tryouts later, players have the opportunity to spend more time developing and improving their skills so they can then be placed on a team that is most suitable for their growth and development. 
Players should plan to attend all sessions they are invited to. If you have a known conflict prior to tryouts, please contact the Youth Hockey department.
The evaluators, which are comprised of the Hockey Director, Player Development Coaches, youth hockey coaches and/or independent evaluators, will determine the team selection by committee.
10U tryouts are a 'closed tryout,' meaning that only players who have committed for the season are eligible to participate in tryouts.
12U tryouts are an 'open tryout,' meaning you do not need to register for the season in order to try out.
10U: Players will be instructed to attend recreation evaluations on September 10-11.
12U: If the player has registered for the season, they will be instructed to attend recreation evaluations on September 10-11.
Players do not need a release in order to try out. Releases will be required during registration if your player is transferring from a different association.